Where Do I Start?
Sep 26, 2014
First off, I must apologize for not keeping up with my Web Journal as I had intended. As time quickly passed me by, I found myself once again, falling farther and farther behind. That leads me to my current question: Where do I start now?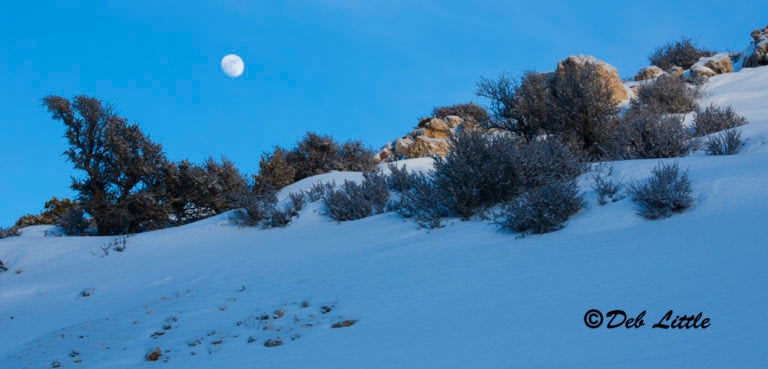 It looks like my last entry was back in January of this year. How can it be that 9 months have already flown by? Well, I need to just put those thoughts behind me since they are not getting me anywhere. I will start out with a journey that I took in February that was a trip of a lifetime for me.

When Ginger Kathrens (Emmy award winning filmmaker of the Cloud series for PBS and more importantly my friend) asked me if I would like to accompany her on a trip to the Pryor Mountains last winter, I was quick to say "YES".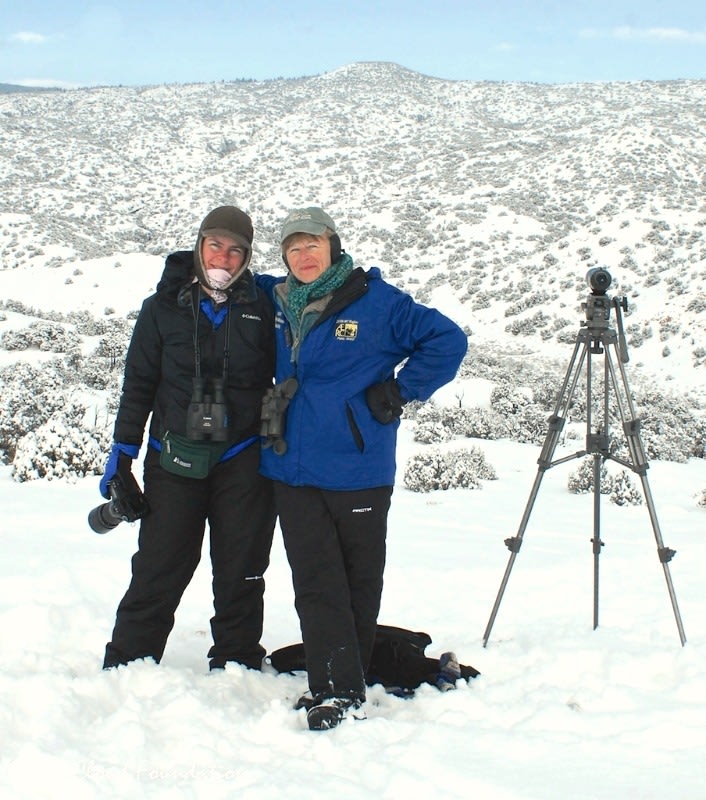 I have always longed to experience this rugged wilderness in the winter. But I know that finding wild horses during this time of the year can be very difficult and sometimes impossible. I needed to mentally prepare myself for the possibility that I may not see a single wild horse while out in their Wyoming/Montana wilderness. Was I ready for such a possibility? Yep! Bring it on! I was ready!

Two words: COLD and SNOW!
The landscape was beyond my wildest imagination. Sure, I have been there many times….. in the summer. The landscape was familiar, yet completely different as snow blanketed the red rocks and sage. The experience was absolutely incredible! Ginger is well prepared for such an adventure, trailering a UTV out to the base of the Pryor Mountains and then driving up the winding rocky, snow-covered road in the UTV. I wanted to share our experience through photos and a couple of very shaky videos. I was handholding my point and shoot camera (yes, I do have one of those!) to film the videos. Have I mentioned that it was was COLD? And that there was SNOW? [youtube=http://youtu.be/aEkKarTykoc] The landscape was stunning with the snow crystals that were falling from the sky, covering everything in a beautiful white blanket. Spotting for wild horses in this vast white covered landscape was like looking for a needle in a haystack. We spent a great deal of time looking through our binoculars and spotting scopes, hoping to catch a glimpse of the wild horses that call this magical winter wonderland home.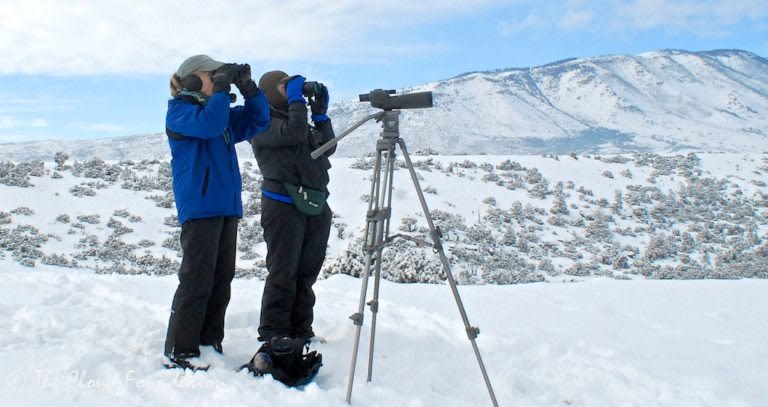 The beauty surrounding us was quite breathtaking. Even the smallest of details took on a beauty all on their own. I am sure some of these small detail photos will work their way into some of my future Photo Fusions.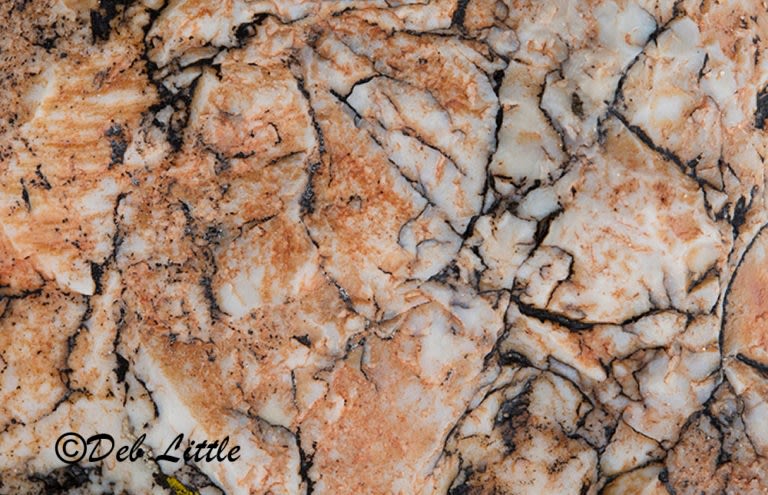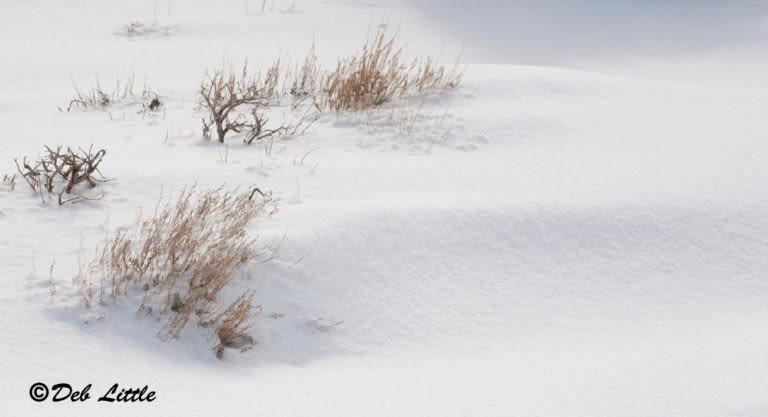 As we glassed, I pondered how these wild horses could survive in such brutal conditions. And I was reminded of the first winter that Image and Ember came to live with us after they had been removed from this very mountain wilderness. They spent quite a bit of time playing in our snow covered pasture. They would not have dared use that kind of energy on the mountain in the winter. But they are smart. They soon realized that they did not have to scrape and paw for every scrap of food they ate after they came to live with us. I marveled at the awe of God's creation. How He had perfectly designed these creatures to live in this very rugged wilderness. They had everything they needed for survival.

As we ascended Burnt Timber Road, I was reminded of just how fragile this rugged mountain can be… This is the Custer National Forest side of the Pryor Mountains. The fire took place in 2002, I believe.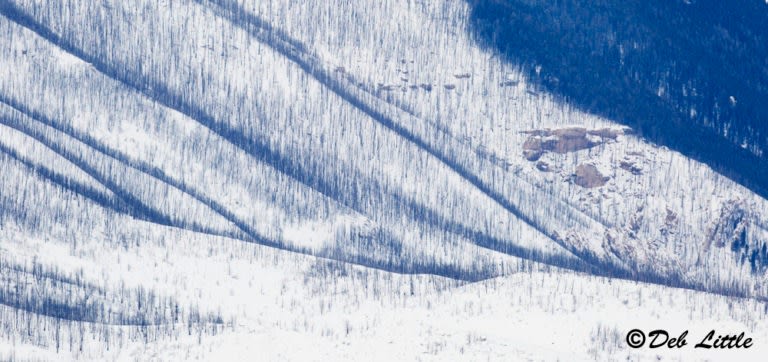 We spent 5 days looking for wild horses and photographing those that we found. Some of them were at a great distance. It was quite an incredible experience and one that I will not soon forget.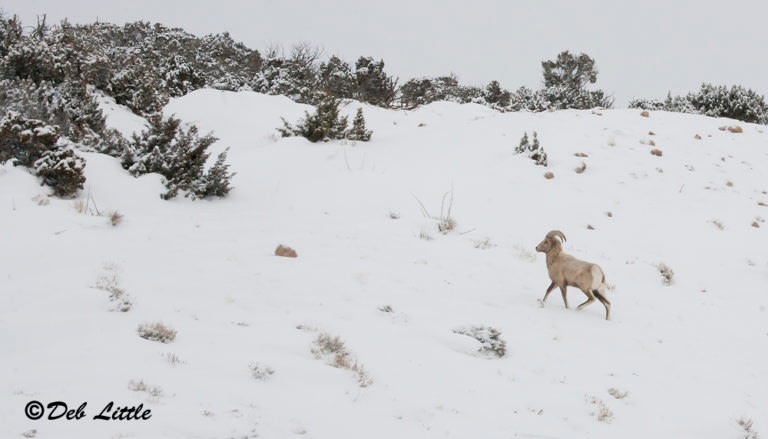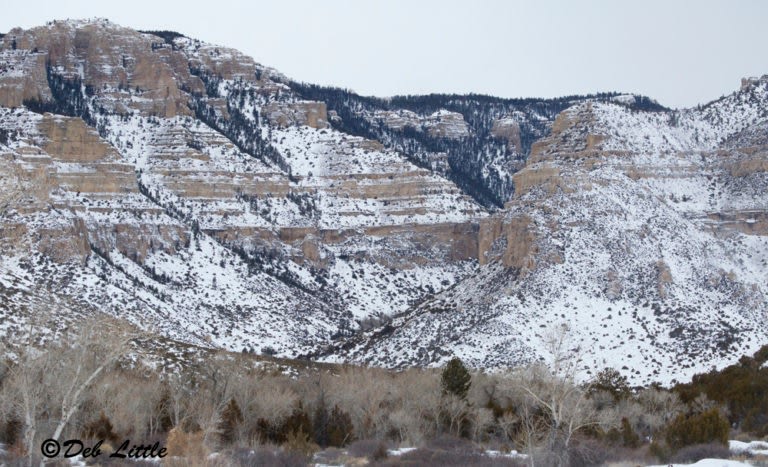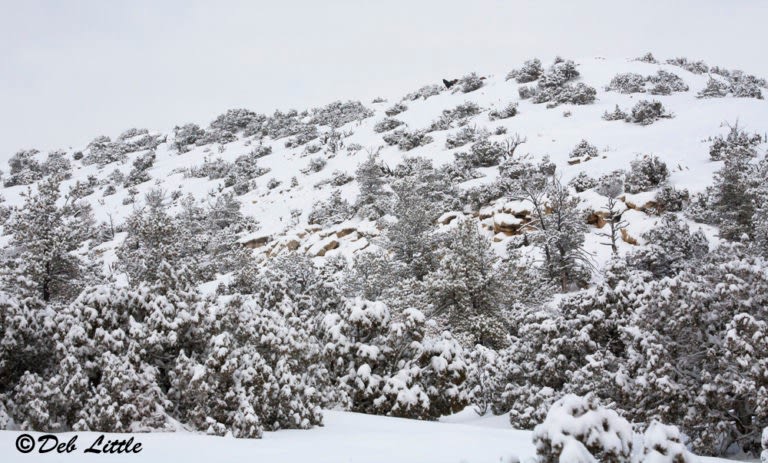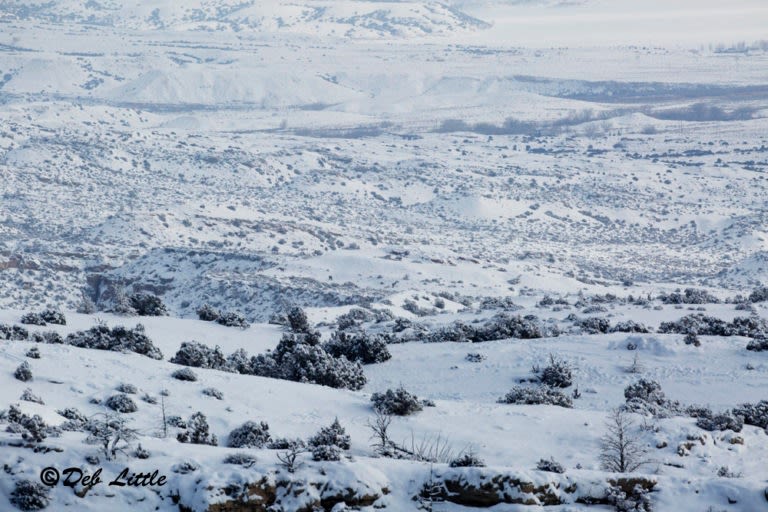 Can you find Cloud in this photo?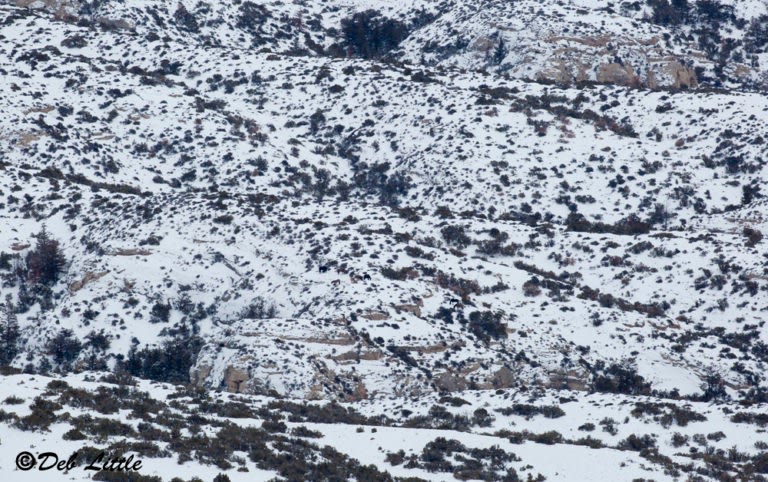 Do you see the horses?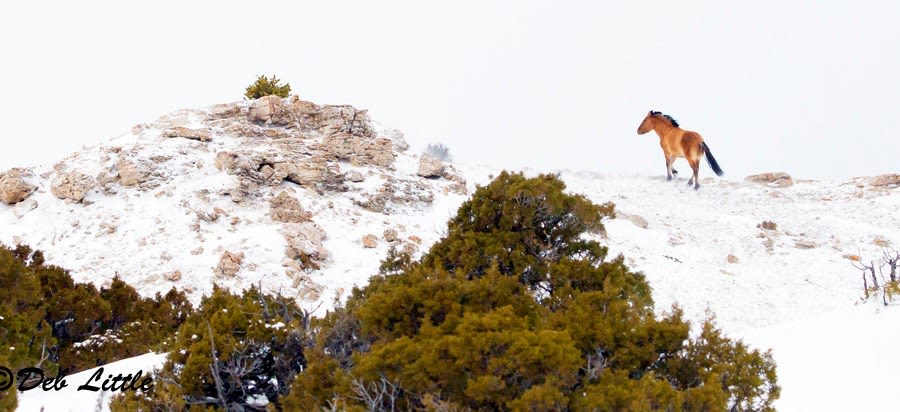 Thank you Ginger for the opportunity of a lifetime!