Leading the Herd
Sep 26, 2012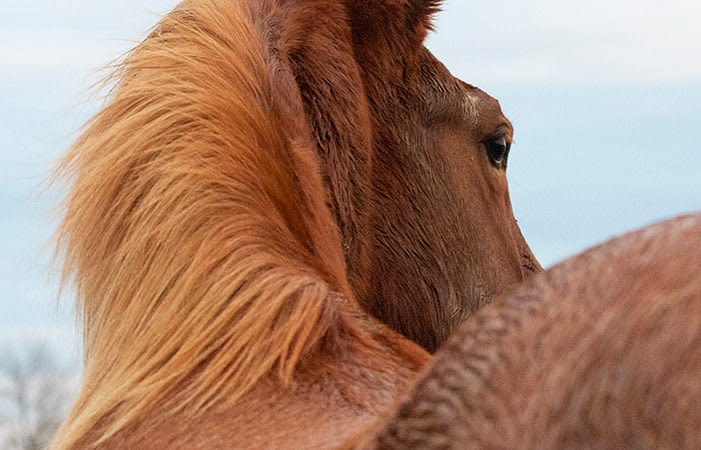 To catch you up: this is my journal about Image and Ember, two Pryor Mountain mustangs that now reside in our pastures and deep within my heart. They share grazing ground with my husbands horses: another mustang, Abi (12 yr old, HMA in Nevada), Touchy (32 yr old QH Mix) and Lady Gray (10 yr old rescue OTTB).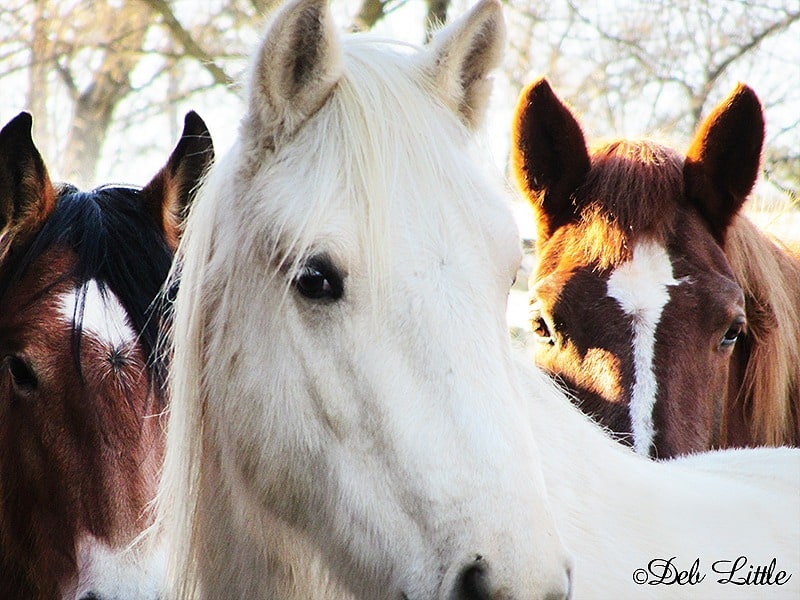 Ember, Image, and Abi - our mustangs
In my ongoing quest to learn natural horsemanship, I am having many 'aha' moments along the way. As I have said in an earlier post: it's not just about loving my horses, I have to know their language in order to be a good and effective leader. I have come to realize just how important the role of leadership is. In light of that, I wanted to focus my attention on my husbands mustang Abi…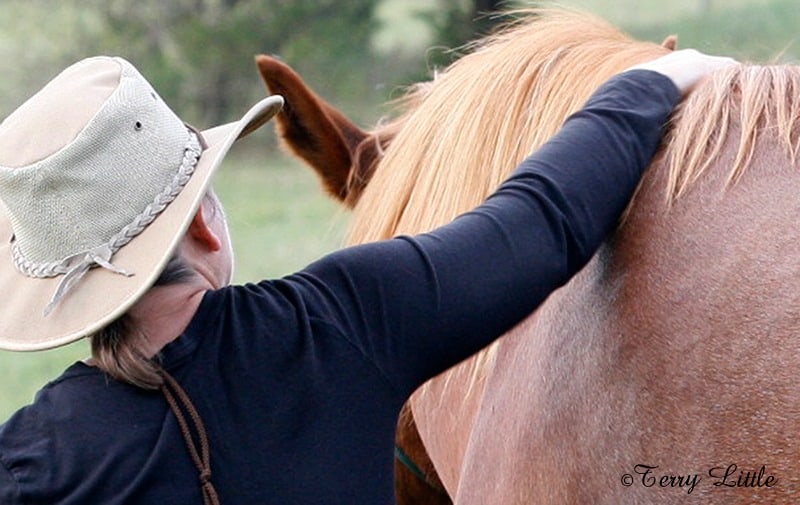 Abi and I as we journey down this road together
Within our herd of 5 horses, Abi is the leader, known as the alpha mare. She pretty much calls the shots within the 5 of them on a daily basis. She lets each of them know if they ever step out of line. She is actually a very good leader. I have watched her many times to see how she handles different situations. And I am proud of her for stepping up to become the leader when we made the agonizing decision to end the suffering of Shy Ann, our herd alpha mare at the time. Shy Ann was always a very nervous alpha mare. She seemed to rule the herd with an 'iron hoof' so to speak. Looking back, I can honestly say she was not a very good leader. She kept all of the other horses on their toes and did not give them any time to truly relax and have fun and well…. just be horses. She was somewhat of a dictator. I was a bit afraid that Abi would pick up on those traits of Shy Ann's and become a stern and unforgiving leader herself.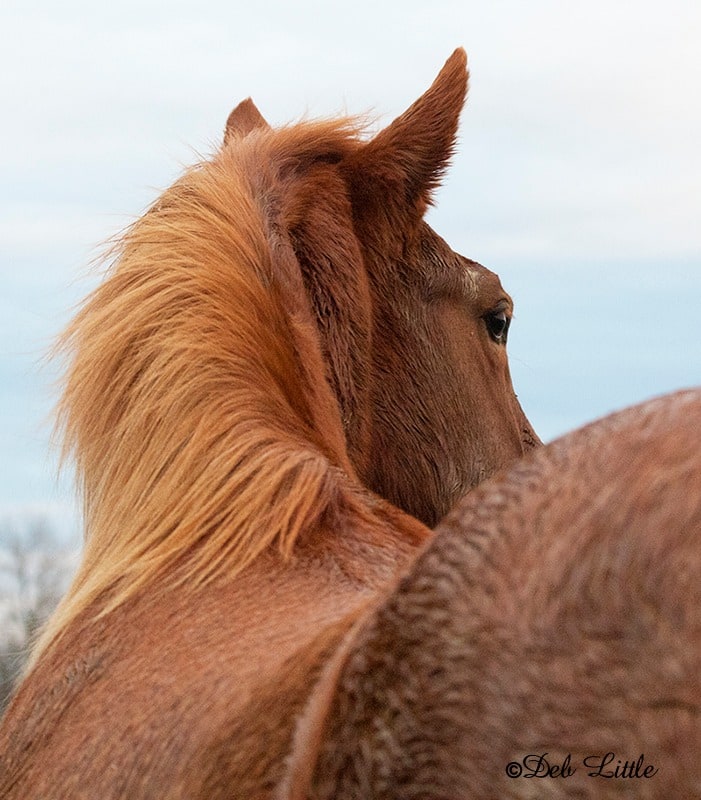 Abi
I have been pleasantly surprised at how well Abi has stepped up into her position as lead mare. She shows confidence, strength, compassion and fairness. I have watched her hang back with Touchy, our older mare, to walk with her to go out at feeding time, rather than race ahead with all of the youngsters. She will put herself in between Lady Gray and Image when they start to feel the 'hate' portion of their love/hate relationship. She will also initiate a mutual grooming session with Ember, who shares the bottom of the totem pole with Touchy.

Image, Abi, and Ember
Image questions Abi's authority quite often. Abi will gently put him in his place with the lightest amount of pressure necessary. She starts with her ears back. If Image doesn't respond to that cue, she may swing her head toward Image and start to bare her teeth. If Image is still not responding appropriately, Abi will then advance toward Image and nip him just a little bit. Abi understands that she does not need to immediately nip Image. She gives him plenty of opportunities to make the right decision before her teeth make contact. Abi needs her actions to be effective so that she is understood….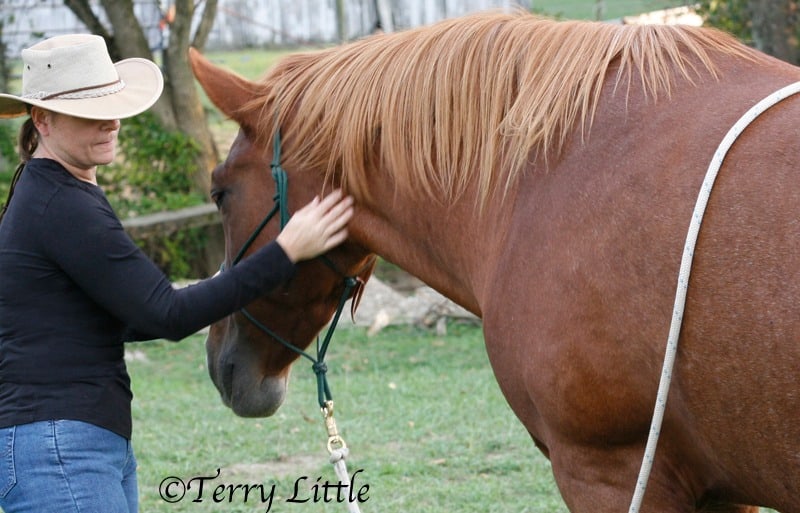 After looking into different horsemanship styles, I have come to really have a deep respect for Pat Parelli and his Parelli Natural Horsemanship program (PNH). PNH puts the relationship between human and horse first. His program is based on the natural behavior of horses.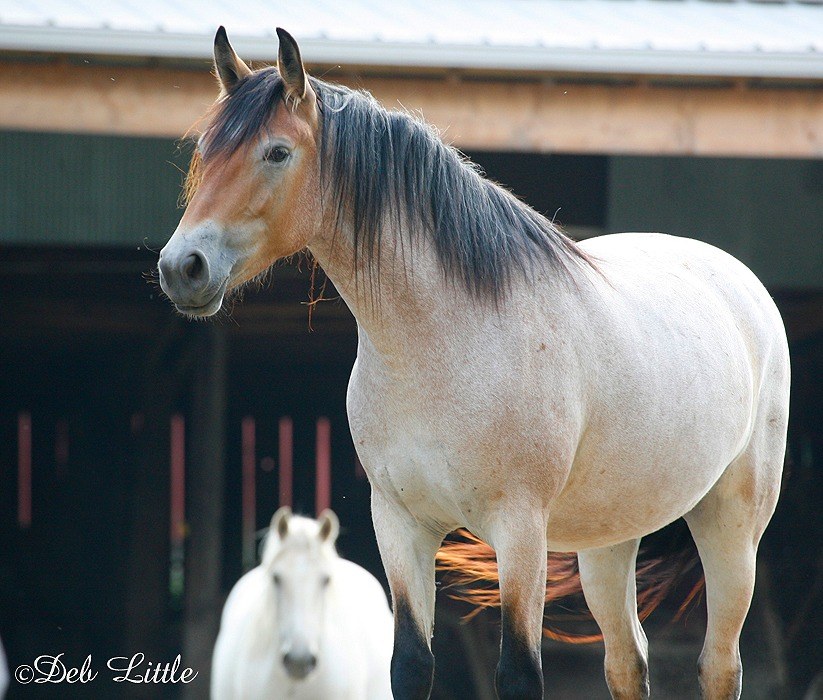 "Based on respect for and love of horses – and understanding horse nature and psychology – the Parelli program enables anyone at any level to have fun with horses and achieve amazing results…naturally. Parelli horse training avoids using force, fear, harsh bits or mechanical training aids in favor of love, language and leadership or, said another way: relationship, communication and trustworthiness." – PNH
YES! That is exactly what I want: a relationship with my horses built on mutual trust.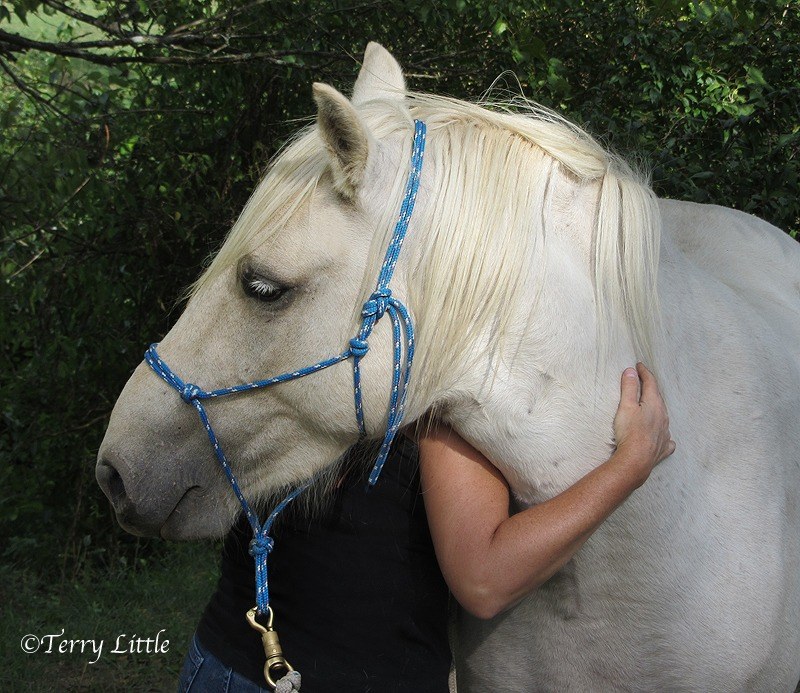 Hugging my "little sugar cookie" Image
It was not until I attended a clinic of Parelli Professional Jesse Peters, that I realized that my language skills needed a lot of help. I realized that I was not communicating with our horses in an effective way. By communicating, I am referring to body language. "Everything means something and nothing means nothing" – Pat Parelli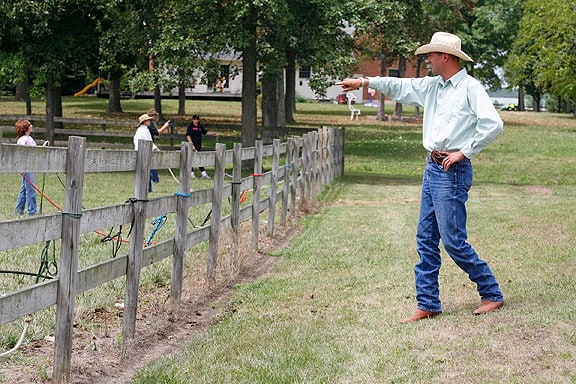 Jesse Peters demonstrating proper technique at a PNH clinic
In other words, every movement I make means something to my horses. It is up to me to know their language and understand it. My horses already know it...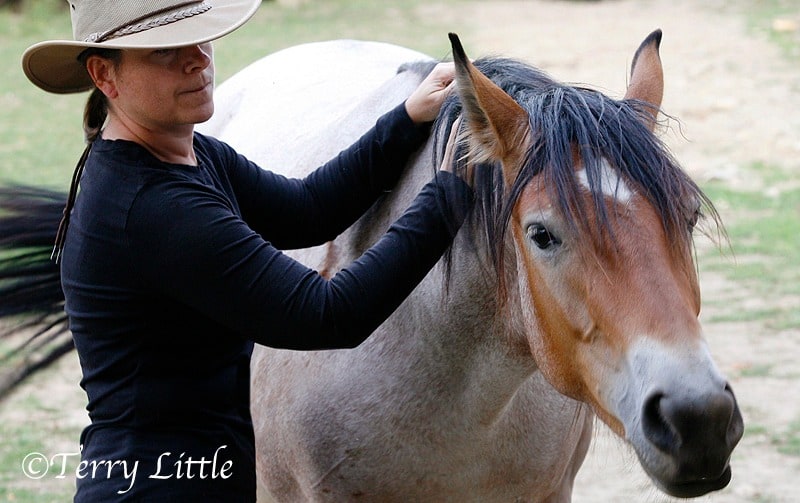 working on Embers itchy areas
I am not a natural leader. So I had to step out of my own comfort zone to communicate in an effective way for Abi to look to me for leadership. By using the techniques that PNH teaches, I have finally found a new confidence with our horses. Once Abi saw that I was speaking her language, she came to accept me as her leader. I am very happy to say that with just one small little movement from me, Abi will now willingly back up. In the past, she would run into me or over me as she was exuding her alpha status over me! I want to be the kind of leader that our horses will willingly and happily follow. With the Parelli program, I am finally learning how to be the kind of leader my horses can trust and look up to.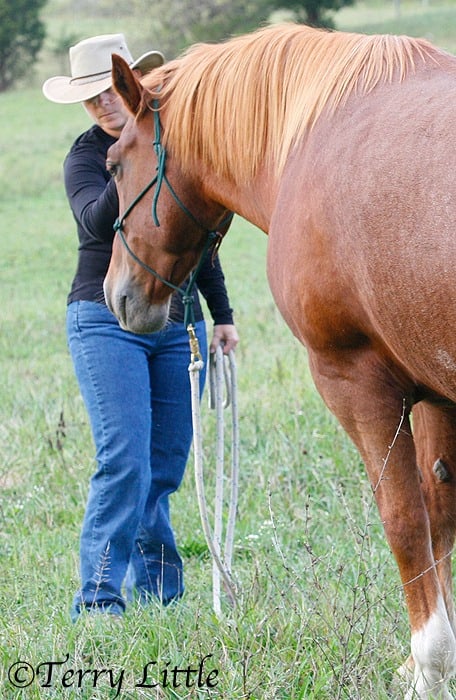 Abi and I sharing a friendly moment
I have just barely scratched the surface of natural horsemanship. I hope to continue learning and deepening my relationship with each one of our horses. I know this will be a life long journey. I am loving what I am learning along each step of the way.