A Visit to Image and Ember's Family
Jul 06, 2010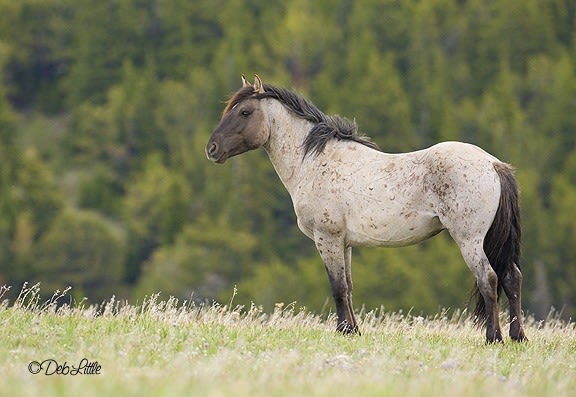 As the end of June approached, I was anxious to get to the Pryor Mountains to see Image and Ember's mountain family. I wanted to see how the round up and removal of so many of this unique herd had affected it's dynamics. It was a very bittersweet time as I knew in my heart that the mountain is where Image and Ember belonged. Their grandfather Cloud had several of his offspring removed in 2009: his daughter and five of his grandchildren. I fear that for some odd reason his family has a big target on them.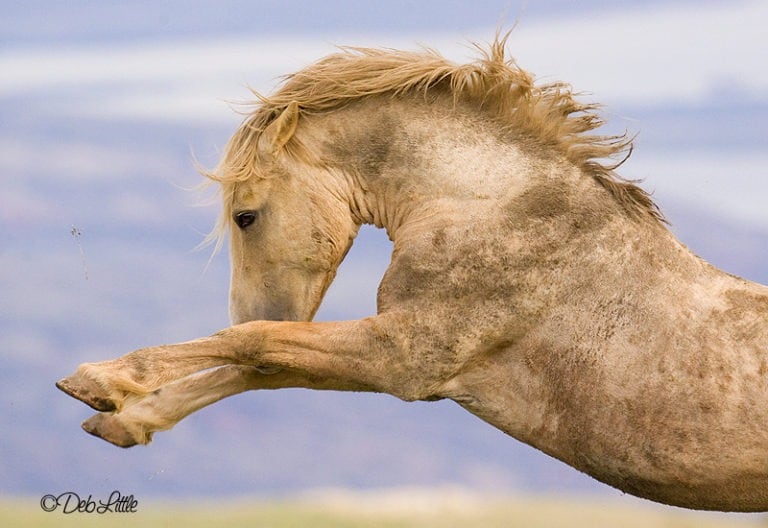 Cloud
At the top of the mountain I found bitter cold temps and a wind that didn't just whistle, it howled. I was glad I had put my heavy coat, gloves and stocking hat within reach. It didn't take long to see that Cloud's son Bolder and his family were grazing nearby. Bolder is a deep sooty copper color palomino. As he has grown older, his coloring has gotten so much bolder, much like his horse-anality.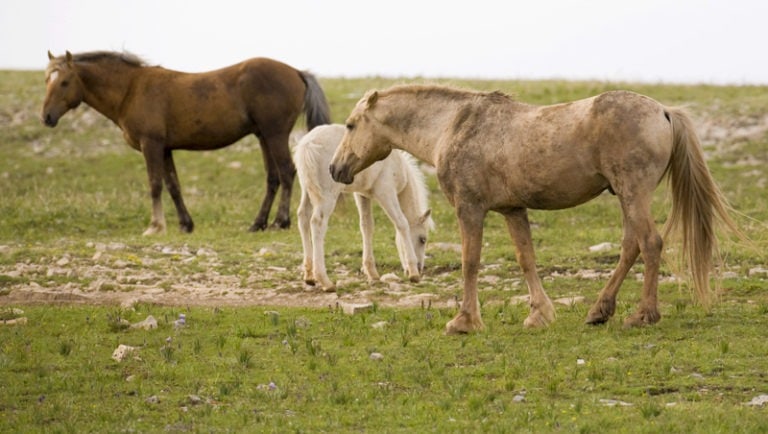 Bolder, Echo, and Cloud
To my delight, Bolder has 3 rambunctious little ones playing with each other in his band. A little palomino colt named Echo that looked quite a bit like his grandfather Cloud and his cousin Image. He has those trademark white eyelashes that melt hearts. His muzzle is lighter in color and has more pink on it. And his body structure is a little different than Image's, but for a moment I was taken aback. As he played with his sister Kicks A Lot (You can see in this image how she earned her name), I was struck by the scene before me.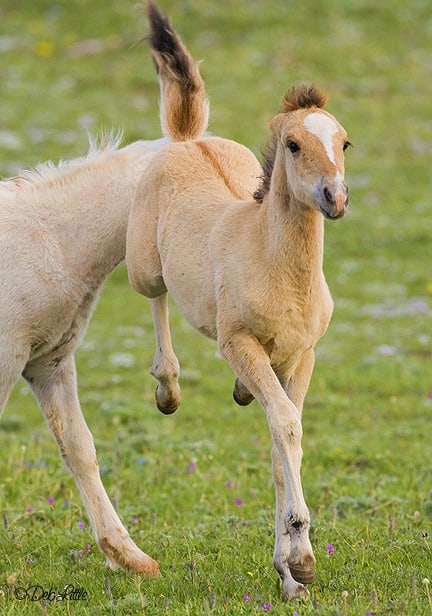 Kicks a Lot and Echo Playing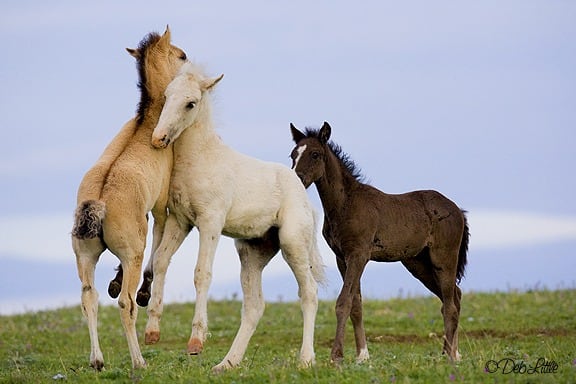 Kicks a Lot, Echo, and Absaroka playing
They were playing just as Image and Ember had 2 summers ago when they were this age. I have to admit that tears blurred my vision for a bit and it was hard to take pictures of this reminiscent scene before me. What would it have been like had Image and Ember been allowed to continue living on their mountain top home? Would they have played with their cousins, who look so much like them? Would Image and Echo been a part of a rowdy bachelor band together? I will never know…..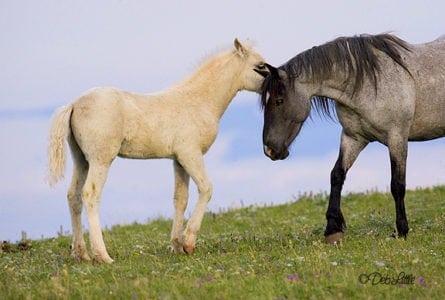 Echo approaching Dancer
I held my breath when little Echo approached Cloud Dancer (Image's mom). I wonder if she remembers Image when she looks at Echo.
Time slipped away quickly as I was watching the horses and their behaviors. It was a pure joy and delight to see Bigfoot, an older stallion who had eluded the helicopter round up the summer before. With the extreme arthritis in his legs, the run down the rugged mountain probably would have killed him. He is the kind of wild stallion that you just have to admire. He is all heart. I had to chuckle and shake my head at him in wonder as he tried his best to steal a mare, running around with band stallions. Does he really want to win a mare or is he just having some fun with 'the guys'?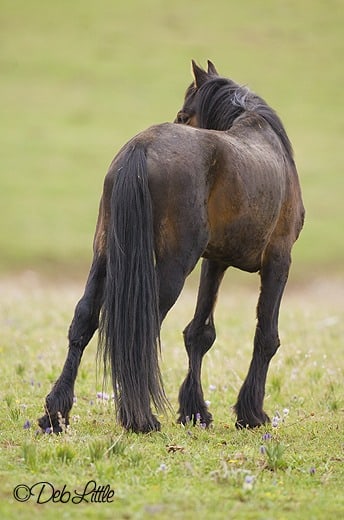 Bigfoot

Bigfoot on the far right
Coming upon Jackson's band, I see that Firestorm (Embers Mom) is still with him. And she has a little one by her side. She looks like an elegant little lady! This is Ember's little half sister. It was hard to see Ember's family without her there. Would she have played games with her little sister? I find that such thoughts only hurt as I ponder what could have been….. As I have watched Firestorm grow older through the years, she has become such a beautiful horse. She has turned into a graceful presence on her mountain top home.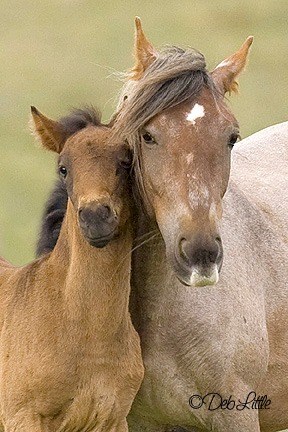 Firestorm and her little Lady Jane
It was such great fun to see Flint and his mare Feldspar and their 'flintstone' family. His yearling son Jasper is learning the art of being a stallion from his very cool father. Cloud raised Flint, even though Cloud is not his blood father. Cloud stole Flint's mother from the mighty stallion Shaman before he was born. It was a delight to see Flint and Feldspar with their new little daughter Agate. Such a little cutie she is. (I have just recently learned that Flint has lost his family to Bolder. I am hopeful that he will win them back in the Spring.)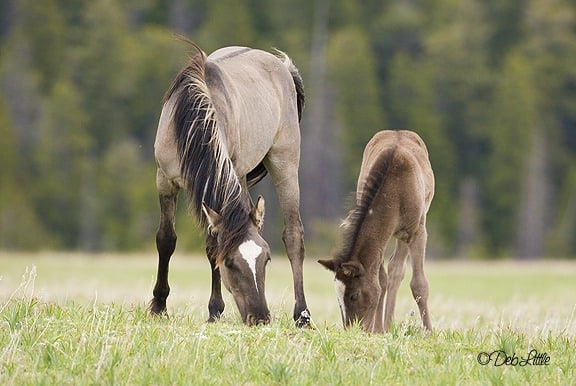 Flint and Feldspars youngsters: Jasper and Agate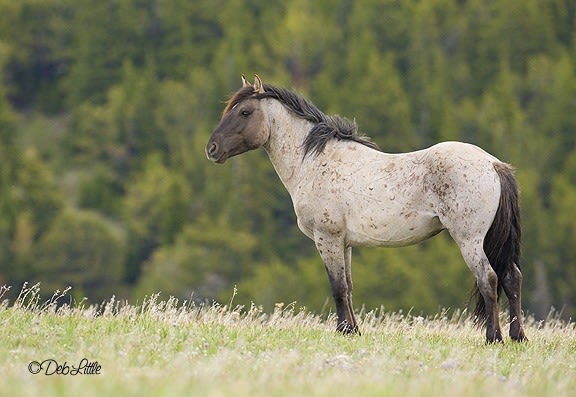 The dashingly handsome Flint
It was wonderful to see so many babies on the mountain this summer. I only wish this were not the end of such sights on this beautiful land. After the round up last summer, most of the mares were given PZP, a birth control drug. I think there are only 5 mares from this herd that were not given the PZP. My heart aches for the future of this amazing herd.