A New Home for Image and Ember
Oct 23, 2009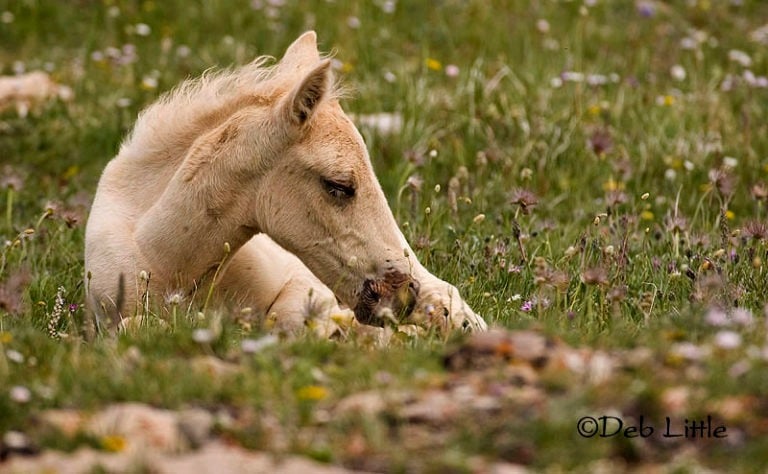 Image enjoying a mid morning snooze
Every time I go to the Pryor Mountains it is an experience unique unto itself, filled with new challenges, inspiration and much joy. My trek up to the top of the Pryor Mountains the summer of 2008 was no different. The only way to the top was on the rugged bone jarring road called Burnt Timber. Climbing rock after rock in 4WD low, we slowly made our way to the top of the mountain. As we reached the point where Burnt Timber meets Sykes Ridge Road, we could see some horses over on Cloud's Island. As excitement filled us, we started hiking out to the horses. We soon came upon Cloud and his beautiful band. The closer we got we could see a miniature version of Cloud! A little white fluff-ball with legs, he couldn't have been more than a month old! Image soon stole my heart as I watched him snoozing in the wildflowers.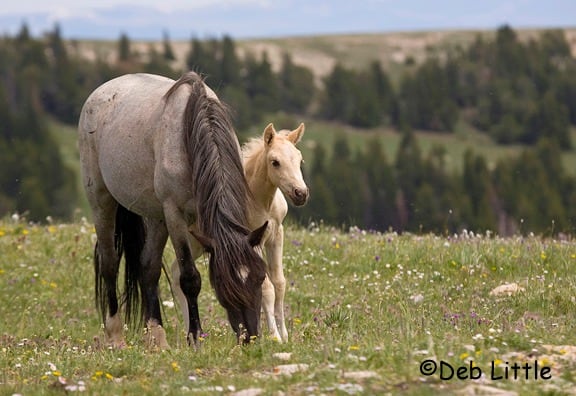 Image with his mom Cloud Dancer
Another little one in Cloud's band was Firestorm's daughter Ember. As I got a closer look at her, I could see she had a horribly long wound on her right shoulder. The only thing I could think that would make a wound like that was a mountain lion. Oh, poor baby, my heart melted for her. The wound was big and she was such a little thing. Was there any way her wound would heal? Would she make it through the coming winter months? Would she even survive the coming night? Thoughts of the mountain lion coming back for more gave me chills. I had little hope that she would make it through the harsh winter to come.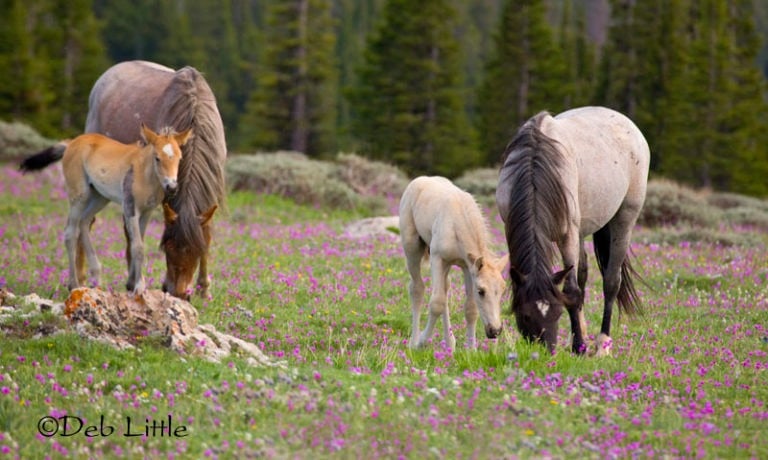 Ember with her mom Firestorm and Image with his mom Cloud Dancer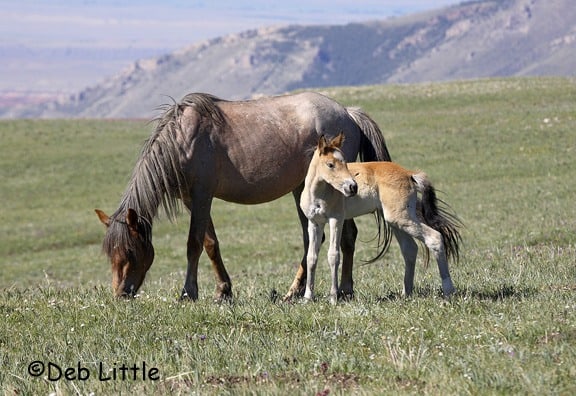 Firestorm and Ember
As we spent that week up on the Pryor Mountains, we faced many challenges. The raging storms kept the roads very slick and virtually impossible to drive on. The hail storms kept us tucked inside of Penn's Cabin and very thankful for the shelter it provided.

Two Boots and his band greet us at Penn's Cabin
The following summer I once again made that long drive out to the Pryor Mountains to spend time with the wild horses that had captured my heart. The horses were not hard to find. They were right on the road! We soon found Cloud and his band. Image looked a little small for his age and little thin, but seemed to be doing very well.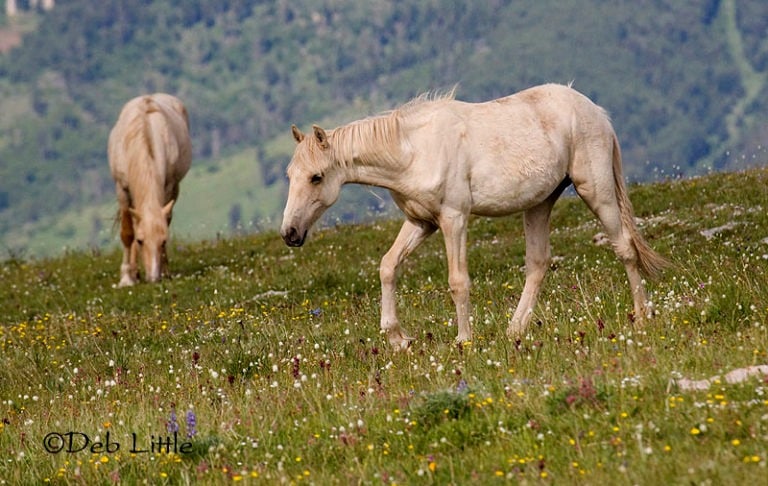 Image and Cloud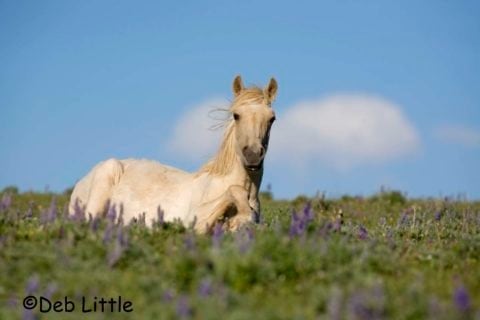 Image among the lupine
A little later we found Ember's mom Firestorm with Jackson's band. To my amazement Ember was with them! She had survived the winter and she looked fabulous. I was amazed at how well she had healed from her mountain lion attack. There wasn't a scar on her! She is a true survivor.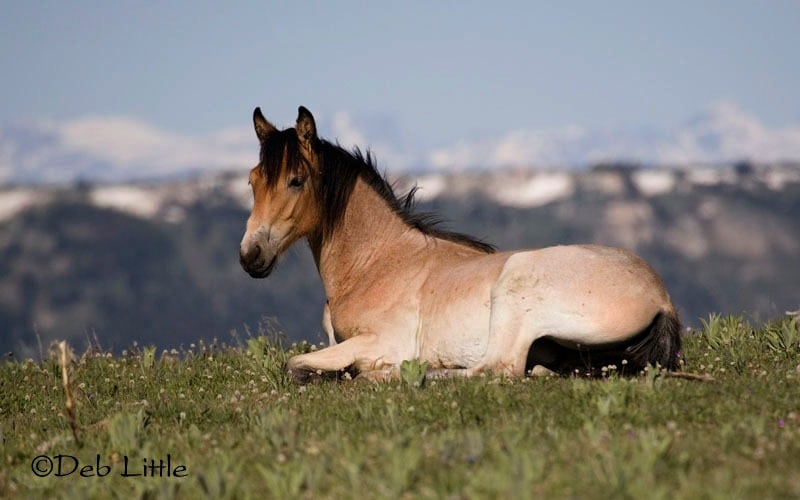 Ember
When Image and Ember were to be permanently removed from the only home they ever knew, my husband Terry and I decided to give them a place to live with us and our other 3 horses on our farm in Ohio. I would have preferred they stay in the wild with their families on their mountain top home, but since that was not an option, we will try to give them the next best thing. I was a little surprised at how much weight Image had lost between the round up and the time of the adoption. I am hopeful that with a lot of TLC, we can bring him back up to good health.
A huge thank you to Cheryl for taking such great care of these 2 youngsters until my schedule cleared so we could head out west to pick them up. When we arrived at Cheryl's ranch, I could already see a huge difference in Image. In Cheryl's care, he had gained a good bit of weight. Even though it was only mid October, Image and Ember had a good start on their winter coats. Our horses had only just begun to grow their thicker hair for winter. As soon as we got back home, Terry put our girls, Touchy, Abi and Shy Ann, in the back pasture so we could get Image and Ember into the corral without too much drama. Our girls could see the new kids and called out to them. Ember gave a return high pitched greeting. We let the kids get acclimated a bit before letting our girls back over to the barnyard where the corral is.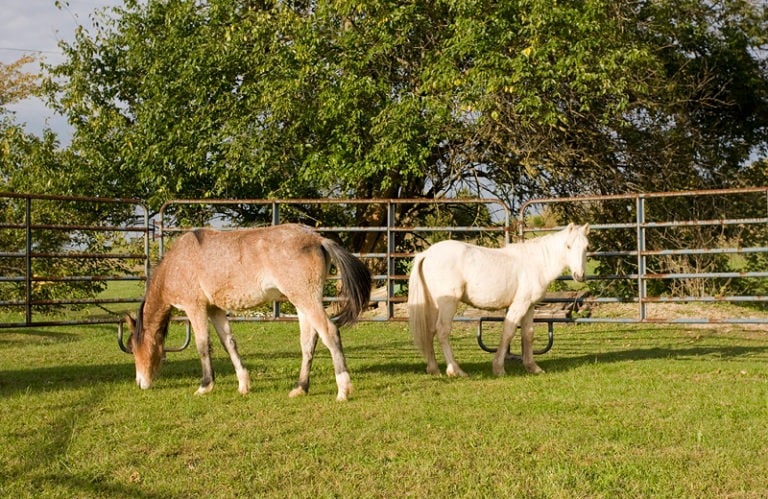 Ember and Image at their new home
Image immediately allowed us to touch him all over and seems to crave our affection and attention. Ember is a little more wary and would only allow me the barest of touches when she ate hay out of my hand. She is definitely more interested in socializing with our older girls than with us. Image took one look at our older girls when they came back over and was clearly unimpressed as he went back to eating his hay.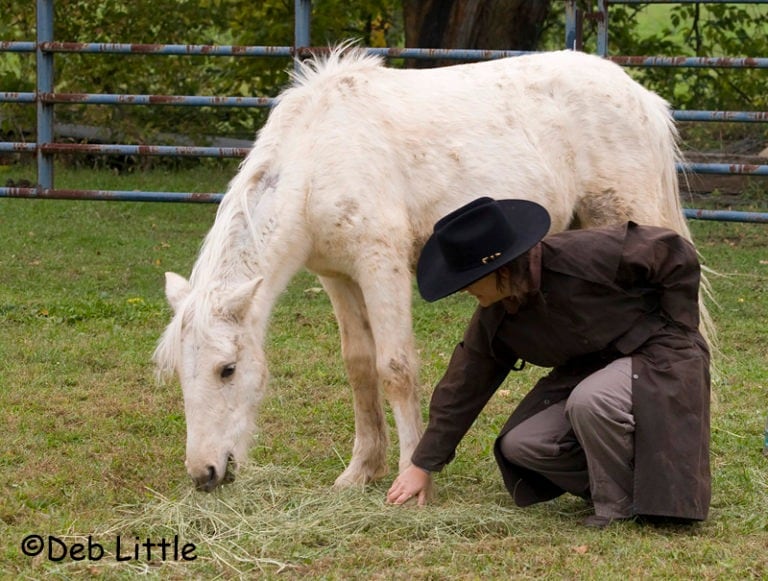 Image on his first day on our farm in Ohio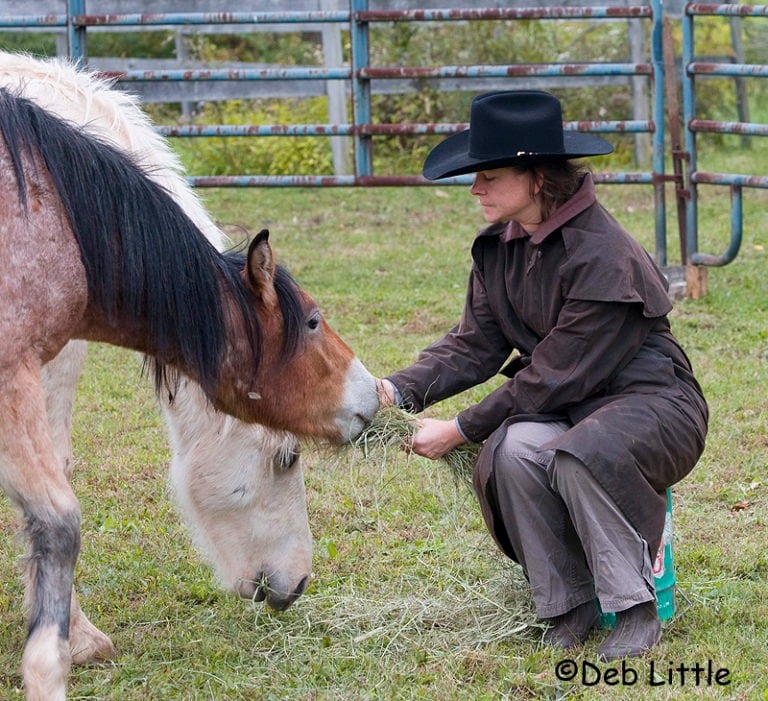 Ember allowing on the barest of touches on her first day with us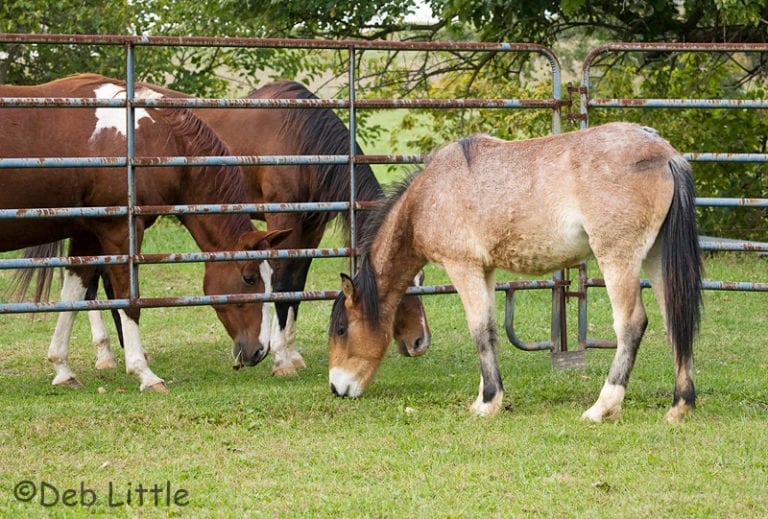 Ember socializing with Shy Ann and Touchy
We are hopeful that Image and Ember will come to love our little piece of heaven here on earth as much as we do. It has been a wonderful start to this new chapter in all of our lives.